Asterix - Mobile Gift Cards
May 22, 2010 —
Even before I was introduced to the term 'code repository' or cvs in my college, I was using names of characters to represent the version of my assignment codes. They will start with Alice, Betty etc.. Somehow I find it quite amusing to name a project (in this case an idea) with a character of my liking. It gives life to the idea and you can relate to the attributes of the idea as its characters characteristics (wow !!).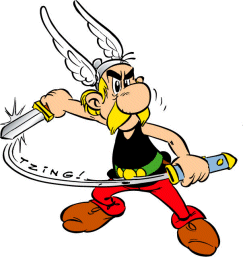 So the first Idea is called Asterix - Mobile Gift Cards.

##The idea is quite simple I go to a wedding, birthday or housewarming ceremony and end up giving the hosts a Gift voucher either from Shoppers Stop, Landmark or Westside. Problems are a plenty with the current physical Gift Voucher. If I am not able to attend the event, I have to figure out a way to hand over the voucher. If I am outside the city or the country and am desperate to gift my friend, I have no choice but to courier it. As a receiver of one these vouchers I have to remember to carry the gift voucher with me. I cannot use it on impulse, which for most of us is the way we shop. Money is usually kept in my wallet so I don't lose it often, But that is not same with a voucher. And finally, my money does not expire in six month or a year. But the voucher will, and I will find it while I am cleaning my files which I do once a year.
##mobile gift card A mobile gift card dolves all of the above problem is truly attractive. It has to work on all the phones as you friend may be carrying most basic phone on which no application can be installed. Solution hence will have to be SMS based. Authentication and redemption can either be done over SMS (will have huge latency), or over an automated IVR call (mobile calls for certain duration are cheaper than SMS). So providing the right technology for this kind of solution is not too difficult. And it will ensure all the usual kind of frauds (re-use/mis-use) are addressed. No brainer at all.
##How does this idea make money? All the leading retailers have a reseller channel for distributing gift vouchers. A Gift voucher forces the receiver to walk in to one of these shops. And retailers to pay huge money to make that happen. So a Gift card is not really sold to the reseller at their face value. And that is where the resellers make money. The idea essentially is to become a reseller of all the leading retailers for their Gift cards. Then sell them online. A typical user will buy the card online, provide the receivers mobile phone number and the gift is sent to the receiver as a SMS. You save huge cost on printing the cards, managing inventory and courier charges which some of the online resellers provide. If the simplicity of the concept is accepted by your customers, you stand a chance of having the largest market share in this reseller business and hence make a lot of money.
The key here is to first convince the retailers to accept this concept. Even if you resell their gift vouchers, they will have to process a mobile gift card. So that will require the retailer to sign up for this concept in earnest. And that is the huge challenge.
Why? - The idea if you realize is very appealing to end customers.
But what do the retailers get here? - More footfalls as more people will buy a mobile gift card.
Can it match up to a significant percentage of existing physical cards? - Err… Maybe not.
Then why should I invest in training my whole staff to use this mode? - …. You may have a point there..
The above is a snippet from a conversation from someone in Shoppers Stop who was heading the Gift Vouchers division. So yes the idea is quite appealing, technology will not be an issue at all. The whole process of distribution and redemption can be made as convenient as you could only imagine. The key however will be to convince some of the leading retailers to signup for this.
Why leading retailers only? The concept of mobile gift vouchers is going to be a new one in Indian retail industry. The ecosystem for it has to be developed (read marketing/education/leadership). That can happen only when some of the leading retailer like Shoppers Stop, Landmark or even Cafe Coffee day adopts it.
Any takers?
[Photo Credit: http://www.asterix.com/encyclopedia/characters/asterix.html ]
blog comments powered by Disqus